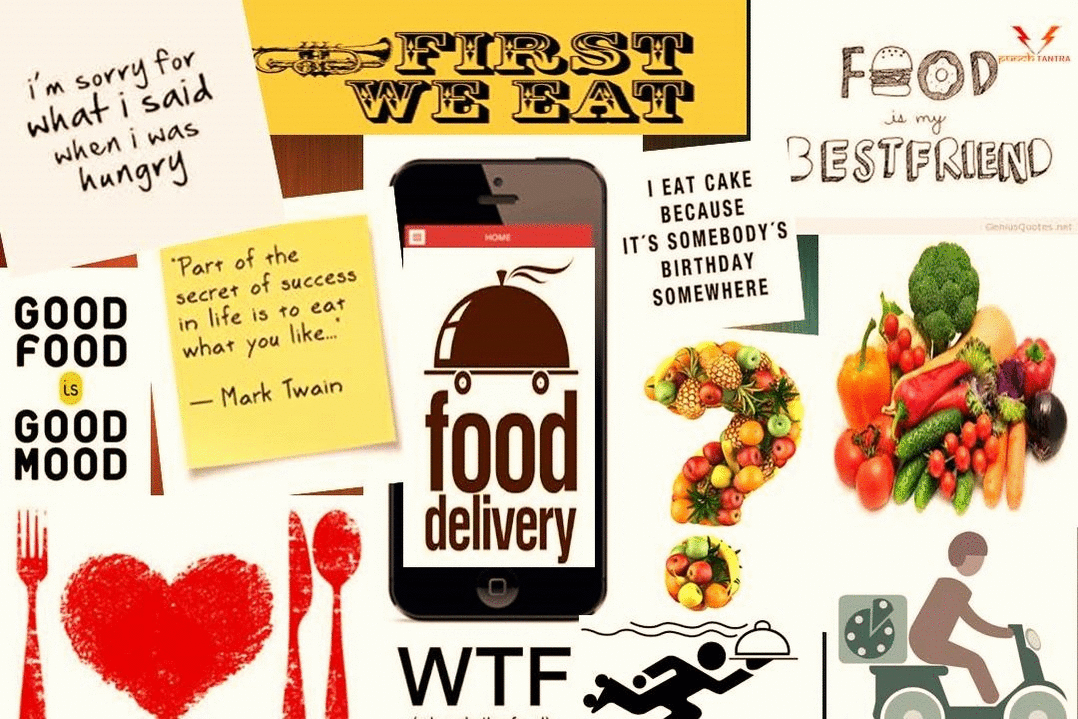 Rise and the Fall of Online Food-Tech Start-Ups.

Back in the year 2010 at the Joint Session of the Indian Parliament, US President Barack Obama remarked, "India is not simply emerging, it has emerged". Indeed, India has witnessed a prophetic growth since the turn of the decade and most of it can be attributed to a recent boom in the start-up eco-system with improvement in political and business scenario. Young prospective entrepreneurs no longer look much afraid of risking and shunning the comfort of the 9 to 5 job tradition and are eagerly exploring a different route of finding business solutions and venturing into start-ups.

Out of many growing and lucrative industries in the business market place, there has been a growing trend and opportunities offered by food companies, especially food delivery apps, online grocery to food ordering services, these start-ups are getting into every pitch to offer something new to the consumers and customers. The best part is that the investors have shown active interest to fund such start-up ideas. Growing Market Size: Over the past few years, the market size of food start-ups has grown exponentially. As per the latest market research by the global management consulting firm Boston Consulting Group (BCG), the market size of the food industry is set to reach Rs 42 lakh crore (42 trillion INR) by 2020, compared to Rs 23 thousand crore in 2014 and otherwise projected that it could even grow massively to 61 Lakh Crore INR ( $895 Billion) by the year 2020, currently it amounts to 14% of total manufacturing GDP, 13% of total Indian exports. With 17 major deals in food start-ups in first 10 months of 2015 along with many other budding ones. Food ordering apps like FoodPanda, TinyOwl, Swiggy, TastyKhana, DeliverCheif are among the popular bunch of option for the urban Indians ordering food nowadays. Zomato is another popular food app to locate restaurants and has also ventured into food ordering and delivery services.

Despite the increasing competition in a niche industry there has been a parallel flow of investment into it, that has only added to the lure of entering such a market. More than 400 food delivery apps have started in India in the past three years raising above of $120 million from venture capital firms and other investors. Consequently, companies that had already made it to the market through a different service have also jumped on the bandwagon. JustDial and Ola cab service have both entered into food delivery service.
Once the investments pumped in, these companies expanded their services rapidly by hiring large number of employees and heavily marketed their products. Similarly, TinyOwl which raised the funding of Rs 100 crore in February 2015 also hired in masses alongside exceptional marketing and product endorsement. Digital Technology has been playing a very good part in making it easier for consumers to order food. The Challenges:
These online food companies have had a tough journey with many bumps and turns on their way. Right from setting up till date, they had to face both growing competition and strict governmental regulations.
Tapan Das Kumar, CEO, iTiffin ( start-up backed by cricketer Robin Uthappa), provides tiffin box with nutritious calorie defined meals to suit the customer's health requirements) he says- "My journey has been full of challenges, right from when I set up the venture till date. One major challenge has been retaining customers beyond 180 days. Although everyone knows the importance of a healthy diet, it is difficult to make people cultivate it into a habit, to be followed on a daily basis. Therefore, it becomes important to present our customers with different varieties of healthy food. Secondly, food standardisation has been another daunting challenge that the Food preparing team of iTiffin has to deal with, in order to give our patrons variety as well." Despite being a massive and fast growing market with an annual growth of 16-20%, there has been increasing instances of many start-ups shutting down their service. Several food-tech companies are now feeling the pinch of financial cost resulting to layoff, restricting services and pausing operations. According to the data collected by VCCEdge, 19 food-tech start-ups have were funded more than $160 million by venture capitals, only a 5 of them have managed to enter the 2nd round of business. The major reason behind this is flawed business models and revenue earning strategies, apart from keeping revenues above the customers. Established food-tech founders point out why some of their competitors have failed. Alok Jain, co-founder and CEO at Yumist, says there are many reasons for the difficulties food-tech start-ups are facing. "A singular focus on raising money, random pivots, high burn owing to uncalled for advertising and mass hiring are the major reasons," says Jain, who took a dig at SpoonJoy when it halted operations with a tweet that read, "Let us be the 'spoon' to feed you with some real 'joy'.
Pits, Bumps and the Falls: In early October, mobile-only food operating start-up TapCibo Online Solutions Pvt. Ltd. had to shut down its outfit only after a year of operation. It successfully raised seed funding from investors including CommonFloor co-founder Sumit Jain and Google India MD Rajan Anandan.
Foodpanda, a well-known food ordering app backed by German investor, Rocket Internet was looking to sell its Indian arm.
Mumbai based food ordering startup TinyOwl recently faced criticism for laying off 100 employees. The report suggests that the company's internal scenario was extremely tensed between the angered employees and co-founder Gaurav Choudhary and went beyond control at their Pune office. The company had raised Rs 100 crore in its Series B round in February and after the first wave of layoffs, secured another $7.5 million (Rs 50 crore). Similarly, an internal email from Zomato's co-founder Deepinder Goyal about missed sales projections also created a lot tension among employees.
What's Next: Angel Investor Dr. Sanjay Mehta feels Quick Service Restaurants (QSR) could eventually take the lead in the food-tech sector. He says "The QSR industry is growing by leaps and bounds. There is an opportunity to fix the broken supply chain with technology solutions but only a handful of start-ups will be able to do it." Moreover, with special emphasis by PM Narendra Modi with government backed start-up movement has recently given a big push through the Start-up India programme. Hopefully, along with other markets and industries the food-tech start-ups will learn from their mistakes and profit under a more congenial environment. Nonetheless, 'when there are challenges as obstacles there are opportunities waiting to be explored'.
Food is the basic need of all, there are multiple choices for customers and they won't hesitate to move from one delivery service to another instantly with their own preference of food, cleanness, hygiene, quality, service and taste. It is quite natural for customers to be curious about knowing the standards maintained by these start ups. The success behind the food-tech is innovative business models, attractive complimentary offers, free and fast delivery, best food quality and creative marketing strategy.