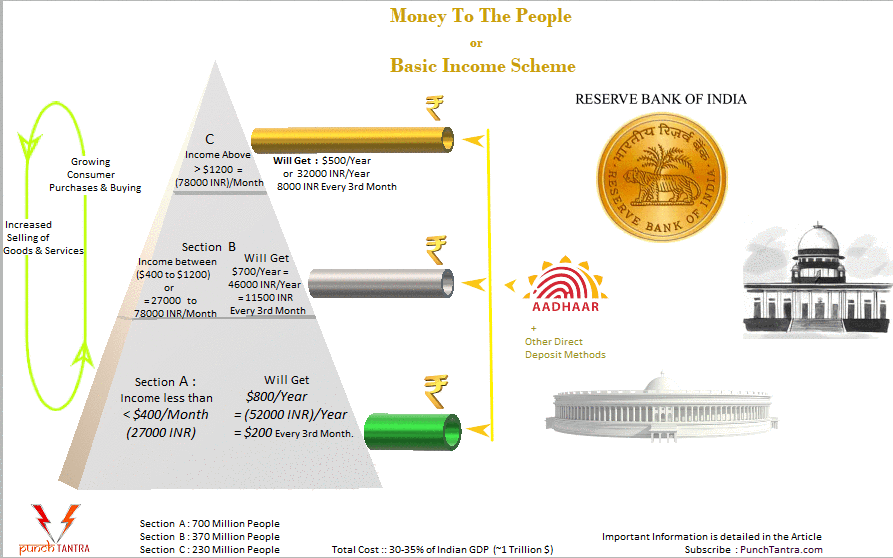 Basic Income Scheme:

People are Poor:

India has a massive number of poor people. And poverty is the root cause of almost all the problems.
Now, India looks for a Leadership & Government that could provide a solution for Poverty.
And that is possible faster than people could imagine. Thanks to some of the measures in last 10 years. At least the foundation to provide the basic income is now in place. And it's only a matter of time when people all over India start receiving the Money in the form of Basic Income.


We did a comprehensive research and this publication not only informs the people but also provides the guidance to the authorities for the next big steps.

Indian Economy: Demonetization provided Accountability. Now, let's put something in those empty accounts! India is a vast consumer market with its overall potential still not effectively utilized.
A massive majority of the population still living below the good standards of living and without enough money to spend on the basic necessities. With the costs of production & manufacturing continuing to rise along with better parts of the world and Inflation above 5 percent(our projection).
People's income has not seen any significant change. When people don't buy enough or do not have sufficient money to purchase, the businesses would falter and face the strain to maintain effective profitability.

Majority of the working class are already underpaid and overworked.
Wages in India are still far lower from what is required to sustain a good living.
A nation prospers economically when the common people have money to buy.


Wages:
(Salary)
Wages of different class of employment, rural and urban workers in India - range from $150-$800 monthly (really!);
for the expert & proficient urban jobs - pays range from $500-$1300 monthly.

The global standards of top paying nations range from a minimum of $800-$1400 for various jobs,
and for proficient jobs $1200-$3200+.

It's a massive difference.
The Wages Bill 2017 is in Parliament.

India has a huge population with a very small fraction that can be called as rich, a huge middle-income group looking for improvements and opportunities, and a massive number of poor people without anything who are losing hope day by day.
There is a huge gap and definitely, something needs to be done.

Method:

An effective way is to print money and let it float to the markets. This method is generally disregarded by economists due to various factors.
Here's a rare case scenario that can work wonders for everyone.

Something that has never been done before. That is by sending the newly printed fresh currency, straight to the accounts of the people, while letting other factors take its natural progression.

Some Important factors: Who needs the most or who should get how much? What is the proper way of distribution of capital to the accounts of more than a billion people? What about the children under the ages of 17?


Solution and The Way :

Nearly a billion people have registered on UID – Aadhar and very soon more number of the Bank Accounts will be linked to individual identities. With other technological advancements where even the mobile numbers can be utilized to receive and transfer payments will furthermore make it easier for distribution.
Recently we have seen growing concerns about the implementation of Aadhar; Security of the data of nearly 1.3 billion people. That includes bank account details. It is really a large database of an overall population of the nation. Informed People are appropriately concerned about the security & privacy of Public Data.
The benefits of the Aadhar are numerous and its implementation is required quickly to let the people have benefits that they deserve.

THE IMPLEMENTATION

A massive lowest section of people with monthly household income of less than $400 (~27,000INR), or individuals with per capita monthly income of less than $400, hereby calling it as Section A with the highest priority needs the most. There are roughly 700 Million people in this section.
To compensate for bringing a balance as every individual is a buyer in some way or the other way, an amount of nearly $800(~52,000INR) yearly needs to be given to every individual, that is a sum of $200(~13,000INR) can be dispensed quarterly four times a year. Every individual? Yes, because then only it can be equally distributed and otherwise it is extremely difficult to make a per-family based payment.

Next Section B, individuals with monthly income between $400 and $1200(~78000INR).
Nearly 370 Million people are under this section.
A sum of $700(46,000INR) should be given annually.

Section C, people with per-capita monthly income above $1200(~78000). Nearly 230 Million people.
An amount of $500(32000INR) should be given to people in this section annually,
that is 8000 INR every 3rd month, four times a year.

Dependent children are covered in this. However, there should be something like a Fixed Deposit Scheme that can be explored, so when children turn 18 they start getting their own incomes.

Appears Crazy? Might be, but to fast-track a nation of more than a billion people with nearly half the population under the extremely bad financial condition it might appear as a heavenly gift to grow together.

Concerns Regarding Implementation:
The lack of data about the incomes of everyone in population might appear like a huge task to current Government and other involved authorities, the incomes of the people are in records at many points like for example when people file their taxes. Or when their employers hire them.
It is important to not base the distribution on how much they already have, but instead, it should be based on how much people are earning monthly or yearly.
Even if there happens to be that someone from Section B appears in Section A and somehow gets more through the Basic Income Scheme still the overall difference will not be huge.
What if one person has more than one Aadhar identity, that would be a flaw in the Aadhar registration itself. And needs to be corrected.


RBI having taken into its account the records of progress for many decades since 1934, should be having the most important decision-making powers in the initiative.
RBI will be printing nearly $1 Trillion more!
It's a completely new Scheme and the overall combined amount is too large to be ignored.

'Basic Income Scheme' or simply 'Money to the People' with the amounts mentioned above would cost yearly around 30-35% of the current GDP of India.

It's mainly because the number of people in India is nearly 20% of an overall population of the World.
The scheme provides a scope of removal of many other subsidies that Government provides – the condition should be that the actual amounts given to people under this Scheme should be close to the amounts mentioned above.
'Basic Income Scheme' or 'Money to the People' is the reason why the current Government must have a long-term vision, this is above Politics.
With positive developments and serious efforts, the Scheme can now be effectively implemented within next 6 months.

Considering the actual state of people in India with what has happened in last 50 years!
this compensation is minute.
This new income is like a boost that in-turn flows back to the businesses.
India will see a steep rise as the major economy of the world!